Rest is a specially formulated blend of water soluble CBD powder with CBN, valerian, and chamomile to help you unwind and get a restful night's sleep. Our premium quality, scientifically-backed ingredients work together to calm your mind and body, promoting relaxation and reducing stress levels. Whether you're struggling with occasional sleeplessness or just need some extra support for a better night's sleep, Rest is the perfect solution for you. Try it today and get more rest.
$59.00
$0.00
Rest: Sleep CBD Capsules
+
What's Inside
Highly Bioavailable, water-soluble CBD Powder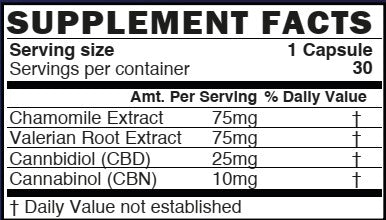 Ingredients: Organic German Chamomile, Organic Valerian Root, Organic Tapioca Starch, Modified Tapioca Starch, Organic Fractionated Coconut Oil, Broad-Spectrum Hemp Extract
Pullulan (vegan capsule)
Capsules per bottle: 30
0.0% THC
+
How to Use It
Take 1-2 capsules with a glass of water 30-60 minutes before bedtime.
CBN is sedative.
What's the right amount to take? That entirely depends on YOU. Simply 'start low and go slow' until you find your sweet spot.