The Daily Dose capsules contain our signature high-bioavailability, water-soluble CBD powder, as well as reintroduced native terpenes. The terpenes work synergistically with the CBD to boost the effectiveness, known as the Entourage Effect. With up to 10x better absorption in the stomach than oil-based extracts, and two different strengths to choose from, these capsules are the most reliable way to dial-in your routine and eliminate any dosing uncertainty.
$32.00
$0.00
Daily Dose: CBD Capsules
+
What's Inside
Highly Bioavailable, water-soluble CBD Powder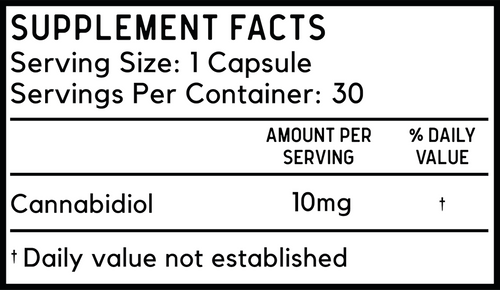 Ingredients: organic non-gmo tapioca starch, broad-spectrum hemp extract
Extraction method: supercritical CO2
Capsules per bottle: 30
+
How to Use It
The Daily Dose CBD Capsules are pretty straightforward... simply take the desired dose as frequently as you need with food or water.
What's the right amount to take? That entirely depends on YOU. Simply 'start low and go slow' until you find your sweet spot.