Indulge in the perfect harmony of your favorite beverage and the wellness benefits of CBD with our Barista Blend. Created with our exclusive high-bioavailability, water-soluble CBD powder, this blend preserves pure CBD goodness without the intrusion of additional flavors or unnecessary ingredients. Its seamless infusion makes it an ideal companion for your morning joe or a soothing evening tea, or any other drink of choice.
What sets our Barista Blend apart is its unique micro-encapsulated hemp extract powder, designed for up to 10 times superior absorption in the stomach compared to traditional oil-based extracts. Experience the unparalleled convenience; whether it's your morning cup of joe, a smoothy, juice or a soothing nighttime tea, it just takes a simple stir to integrate Barista Blend into any drink, hot or cold.
Experience the simplicity and adaptability of Barista Blend, transforming any drink into an opportunity for wellness enhancement.
$44.00
$0.00
Barista Blend: 30 Serving Jar
+
What's Inside
Highly Bioavailable, water-soluble CBD Powder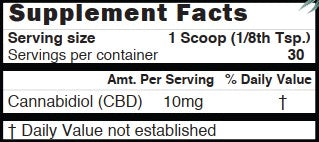 SIMPLE, CLEAN INGREDIENTS: Organic Tapioca Fiber, Modified Tapioca Starch, Organic Fractionated Coconut Oil, Organic Broad-Spectrum Hemp Extract
Our broad-spectrum, water-soluble CBD extract powder easily mixes into your favorite drinks and has up to 10x better absorption in the stomach than CBD oil. It's derived from organically grown hemp using CO2 extraction and retains a broad-spectrum of natural compounds, but contains 0.0% THC.
UnCanny CBD powder provides significantly higher bioavailability, and thus more potency per gram. It's also more versatile than oil-based hemp extracts, allowing you to easily incorporate it into almost anything, including protein shakes, juices, soft drinks, coffee, tea, baked goods, frozen goods, or simply added to a glass of water.
+
How to Use It
IN HOT BEVERAGES: drop the desired amount of powder into the bottom of a cup and pour the hot drink right on top. In Cold Beverages: drop the desired amount of powder into the bottom of a cup and pour the liquid right on top. Stir/shake well!
Everything Else: This CBD powder can go into anything. Foods, smoothies, baked goods, you name it! No special preparation is required to unlock the benefits of this highly bioavailable hemp extract.